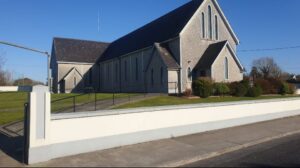 Tarbert Parish Office
Secretary James Lavery   Sacristan James Lavery
Phone Number: 068 36111 or 087-7838198.
Opening Hours –
Monday 10.30am -2.30pm, Wednesday 10.30am – 1.30pm and Friday 10.30am – 2.30pm.
Contact for the office is by phone or email only due to the Covid 19.
Priests
Fr. Sean Hanifin 087-8341083
Fr. Michael Hussey
E-mail address: tarbert@dioceseofkerry.ie
Tarbert is beside the Shannon Estuary. The next parish is Glin in the diocese of Limerick. It has a population of around 2,000 people. Children are well catered for in the local primary school and Tarbert Comprehensive secondary school. Like many other parishes it has suffered from emigration.  Over fifteen hundred years ago St Senan brought the gospel message to the Shannon estuary.  Since then the faith has brought joy and hope to people's lives.  Tarbert is alive as a parish!
Live Services – are back up and running again.
All Masses are now being live streamed from our Church. Just go to the Church website – www.stmarystarbert.com and you can watch on your phone, tablet, computer or smart T.V. When you log in and see the picture of the Alter, just underneath this, click on the mute button and you will then have the audio as well.
Fr. Sean Hanifin 087-8341083

Fr. Michael Hussey  087-2386084
 Tarbert,
 Co Kerry
 068-36111.Fax: 068-36572
 e-mail. tarbert@dioceseofkerry.ie
CHURCH
WEEKDAYS
SATURDAY
SUNDAY
HOLY DAYS
St Mary's Tarbert
Tuesday Eucharistic Adoration from 5.30pm-7.30pm is cancelled.

Monday Mass at 10.00am & every Friday @ 7pm

Mass times can be viewed on the Parish newsletter, our Church website or on the Diocesan website.

6.00pm
11.30am
 11.30am