Weathering a Storm with Fr Pat Moore 010117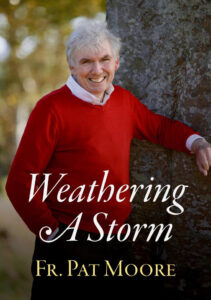 Touring Tousist 080117
Bishop Billy Crean From what wells do we drink  260217
Tackling the Toxic with Declan Coyle 020717
Declan Coyle motivator and author of "The Green Platform" talks to us about a positive approach to life.
Going Global for God 090717

A focus on Ballyheigue's Missionary Movement with the help of Micheál Ó hAllmhuráin's book Going Global for God.
Padre Pio in Lixnaw 160717
Fr Mossie Brick, Maria Conway and friends tell us about Padre Pio and his special place in the hearts of the Lixnaw people and visitors to the church on the third Tuesday of the month.
Tony Darmody  – "Rear View Mirror" 230717

Tony Darmody generous community man and formerly of Kerry Parents and Friends reflects on his life, work and hobbies which currently includes vintage car restoration.
Richard Moore  –  Blind but with Vision 300717
Richard Moore founder of "Children in Crossfire" tells about his Kerry connection and life after being blinded by a rubber bullet when he was a 10yr old boy growing up in Derry.
Martina Lehane Sheehan  –  Remedy for the Worry Wart 060817

Martina, a frequent visitor to Kerry talks about work her books and her spirituality
 Sr Consilio 50 Years of Cuan Mhuire 130817

Half a century of care in the treatment of addiction, Sr Consilio has provided friendship and several homely safe havens for recovery countrywide.
Con Dennehy  –  Alert to Life 200817

Con reflects on his life, his work and his writing following retirement.
Wethers Well with Tommy O Connor 270817

A visit to the holy Well with Kerry County Librarian Tommy O Connor,  Tobar Na Molt – Wethers Well.
Fr Tom O Connor,  The Order of Camillus, Ballyheigue recounts his story 051117
311217  Mícheál Ó Súilleabháin