World Youth Day – Lisbon 2023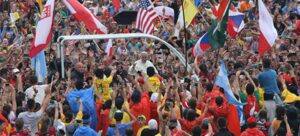 World Youth Day will be held in Lisbon, Portugal from August 1st until August 6th, 2023.  We will travel to Lisbon, Portugal with a group of 25 pilgrims, on Monday, July 31st and return on Monday, August 7th.
World Youth Day (WYD) is a worldwide encounter with the Pope celebrated about every three years in a different country. WYD is open to all young people who want to take part in a festive encounter centered on Jesus Christ together with their peers.
Click here to watch a promotional video for World Youth Day 2023.
Click on Link below for Expression of Interest Form
Expression of Interest form for World Youth Day 2023