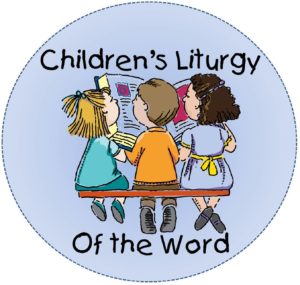 CLICK HERE
for Directory for Masses with Children
CLICK HERE for resources for Family Masses
CLICK HERE for more resources for Family Masses
CLICK HERE for Penitential Rites for Masses with Children
CLICK HERE for resources for children preparing for First Penance, First Holy Communion and Confirmation
CLICK HERE for Godly Play videos of Gospel stories
What is Children's Liturgy of the Word?
During Mass, it is the practice of gathering the children from the assembly during the Liturgy of the Word to celebrate a separate Liturgy of the Word that is more appropriate to their level of understanding.
Why it is celebrated?
It is to make the Word of God more accessible to children and to enable them to participate more fully in the Sunday liturgical assembly.
When does a Children's Liturgy of the Word happen?
It can happen at every Sunday Mass or it might be at a particular Sunday Mass. It is important to give children the experience of regularly celebrating all of mass with the whole community so parishes might consider having a Children's Liturgy of the Word only once a month.
Resources for Children's Liturgy of the Word
Mass Leaflets for Children
Redemptorist Publications www.ShineOnline.net
Liturgy of the Word with Children from CAFOD
https://cafod.org.uk/Education/Children-s-liturgy
From Sermons For Kids https://sermons4kids.com/
From Catholic Children's Liturgy blog http://catholicchildrensliturgy.blogspot.com/
The Complete Children's Liturgy Book: Liturgies of the Word for Years A, B, C 
Katie Thompson
2004 Kevin Mayhew Ltd.
Living Water -The all-age resource for the Lectionary, Years A, B and C
Susan Sayers and Andrew Moore
2000 Kevin Mayhew
A Handbook for Children's Liturgy
Barbara Mary Hopper
2003 Canterbury Press