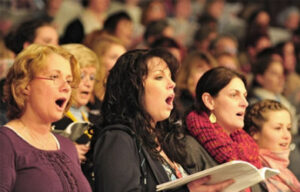 Music and the Liturgy
Music and song is an integral part of how we give praise to God in our liturgical celebrations.  Such liturgical celebrations could be Sunday Eucharist, funerals, weddings or other celebrations of faith.  Music is not an added extra, it has an important function in the liturgy.
Music is also delivered by various music ministers:
The Assembly is made up of the whole worshipping community which includes:

The congregation – making up the main part of the assembly.
The Presider/Priest – sings  the parts pertaining to him/her
The choir leads the congregation in song and embellishes the music by singing harmonies.
The cantor leads the congregation in song.
The organist/pianist supports and congregation and choir.
Instrumentalists deliver by playing an instrument at a given time of the liturgy or by accompanying the choir etc.
Please see below an outline when planning music for a Eucharistic Celebration:
The Entrance Hymn as the ministers approach the altar
The Penitential Rite: Kyrie/Lord have Mercy
Gloria – It may not be possible to sing the Gloria every Sunday, however it might be sung for Sundays throughout the Christmas and Easter seasons, or, for various Feast-days like St Patrick's Day?
Responsorial Psalm – Between the First and Second Readings
Gospel Acclamation – To greet the Gospel
Preparation of the Gifts/Offertory – a suitable hymn or instrumental music could be delivered at this time.
Eucharistic Acclamations

Holy Holy
Memorial Acclamation
Great Amen

Lamb of God
Communion Hymn – As people process to receive communion
Post-Communion music/hymn – as people pray and reflect after receiving communion
Recessional Hymn – as the ministers leave the church.
Instrumental Music  – Instrumental music is very helpful, not only at various points of the liturgy but also before Mass begins, for the Preparation of the Gifts (Offertory).
Please click on the links below for a number of Power-point presentations you might find helpful:
Additional Information
Copyright                                                                                                                            The subject of copyright is important as far as music ministry is concerned.  Priests, choir directors and liturgy groups regularly photocopy sheet music for their choirs or even print music or words for a congregational hymn sheet.  It is illegal to photocopy music, so, it's important for parishes to have a copyright licence in place if copying is required.  The Diocese of Kerry will release a new document relating to this in September 2021.  It will include details on how to go about getting a licence and how to report on the use of music.
The Diocese of Kerry is registered with 'One Licence' licencing authority.  Our licence number is 632310-A 
Contact Tomás Kenny at tomaskenny@dioceseofkerry.ie if you have any questions regarding copyright licencing.
CLICK HERE for a link to the National Centre for Liturgy website – they provide helpful information pertaining to liturgy and liturgical music.  They also highlight dates regarding national events and workshops.
CLICK HERE for Irish Church Music Association
CLICK HERE for Guidelines for Payment of Church Musicians
CLICK HERE for Music Planning Sheet
CLICK HERE for Wedding Music
CLICK HERE for Funeral Music
Diocesan Workshops
Please click on this link to access Derek Mahady's presentation from Tuesday night, Feb. 22nd – Music Workshop for Lent – Part 3 – Part 3 Music (1) 
Please click below to view the workshop content from the workshop 'Singing in Summer' presented on June 22nd 2022
Summer Music Workshop June 22nd, 2022 E