Ceiliúradh na nOg Online Celebration 2022
This year we are going to celebrate the Ceiliúradh na nOg celebration online.  I'm asking R.E. teachers and chaplains to send me a few pictures of a project completed in R.E. class or with the wider school community.  Also, send on a two to three minute voice over to accompany the pictures.  Contact me on tomaskenny@dioceseofkerry.ie if you need any more information.
R.E. Teachers'/Chaplains' In-service
We will host an online in-service for post-primary R.E. teachers and chaplains on Tuesday, March 8th at 2pm and again at 7:30pm.  The facilitator for the in-service will be Siobhan O'Donoghue of Veritas.  Siobhan will present input on assessment and preparation for the new R.E. Junior Cycle exam paper, she will also focus on senior cycle R.E. material.
Siobhan O' Donoghue is a Post Primary Religion and English teacher from Wexford. She has been teaching in Loreto Secondary School, Wexford for the past 16 years. She studied at Mater Dei Institute of Education where she was awarded a Masters Degree in Religion and Education. Her thesis focused on the efficacy of I.T. as a cross-curricular resource for the teaching of English and Religious Education. Siobhan has worked with Veritas since 2018 as part of the writing team for both Soul Seekers and Look Up. Since December 2021, Siobhan has been seconded from her job in Loreto to take up the position of Post-Primary Lead in Veritas.
Please contact Tomás Kenny at tomaskenny1@dioceseofkerry.ie for more information and for the Zoom link.
Post-Primary School Inter-diocesan Project
During Lent, the Diocese of Waterford and Lismore coordinated an inter-diocesan music project in aid of the charity Mary's Meals.  As well as fundraising for this very worthy cause, the purpose of the project was to engage as many young people as possible.  The dioceses represented are Waterford & Lismore, Ferns, Kerry, Limerick , Kildare and Leighlin, Dublin Archdiocese & Elphin.  The virtual choir, involving sixty-six young people, performed three songs expressing the spirituality of Palm Sunday, Good Friday and Easter Resurrection.  The launch for this project will take place on Thursday, March 25th at 7pm via zoom.  Watch it thereafter on Diocese of Waterford and Lismore YouTube Channel.
NUA Easter
https://nuafilmseries.org/nua-easter-registration-form
SU Ireland and SU Scotland have teamed up yet again to produce this free 3 part video series that provides a fresh perspective on Easter and why it matters for us today.
Available NOW!
About: 3 Episodes (plus a bonus video) – Aimed at 9-14 year olds
Join Sarah Campbell, Darren Bourke and Mark Murray on a very unique and entertaining journey that highlights the meaning of the incredible events of Easter.
Alongside the videos is a downloadable resource pack with quizzes and reflection activities formatted for youth groups, classroom delivery and home learning.
Episode One: The Origins of Easter – When we think about Easter, our minds turn to bunnies, eggs and lots of chocolate! But Easter is really a worldwide Christian festival, as important to Christians as Christmas. So what is it Christians are actually celebrating? This episode explores the origins of Easter by going back to the very beginning and discovering Jesus' mission in coming to Earth. However, the rescue mission takes a strange turn when Jesus is arrested by Roman soldiers. Surely that wasn't part of the plan?!
Episode Two: The Story of Good Friday – "It's not fair!" are words we're all familiar with! We want fairness, justice. But possibly the most unfair thing ever to have happened took place on the very first Easter. Jesus was innocent; his friends, and even his opponents, knew that full well. And yet Jesus was sentenced to death by crucifixion – a terrible punishment. This episode explores the trial of Jesus for crimes he hadn't committed. What was to become of his mission? Had his amazing rescue plan failed?
Episode Three: The Meaning of the Resurrection – Jesus is dead, and buried in a tomb. An enormous stone and Roman soldiers guard the entrance. But when some of his followers visit the tomb one early morning, something astonishing unfolds. The stone is rolled away, the soldiers gone; an earthquake, angels, and an amazing message! We don't all like surprises, but for Christians, this surprise at the heart of Easter, is the best news the world has ever heard! This final episode explores the resurrection of Jesus and what it means for Christians today
Post-Primary Graduations 2020
Post-Primary Schools throughout the diocese are coming up with new and creative ways to celebrate graduation.  Check out how the Ember Project in the Dublin Arch-diocese celebrated their virtual graduation.
New R.E. Junior Certificate Specification 
The new Religious Education Junior Cycle specification has been introduced to students in our schools since September 2019.  This will replace the old R.E. curriculum.  All post-primary schools will engage with the new specification which will provide for an opportunity to explore the subject in new and exciting ways.  See http://www.jct.ie/religious_education/religious_education for more information and resources.
NUA Origins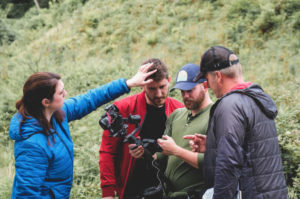 Scripture Union Ireland are excited to announce that they are producing a brand new film series, called 'NUA: Origins'.  It is to be launched in late April 2020.  NUA Film Series (See below) is currently in use in a good number of post-primary schools throughout the diocese.  NUA Origins will be for junior cycle R.E.
Click on this link https://www.indiegogo.com/projects/nua-origins#/ to see a preview.
The success of the NUA Film Series (for senior cycle) has generated conversations across the denominations to create more accessible, relevant, engaging resources for 11 to 14-year-olds. The consensus is given the success with NUA,  and the strength, depth and reach of our networks and relationships, that Scripture Union Ireland is well placed as an organisation to develop a film based resource to enable others to engage more effectively with this target age group.
Embedded in the schools, church and youth group networks, this new project seeks to engage 15000 young people per year: 45000 over the initial 3-year shelf life of the material.
NUA: Origins aims to challenge young people today on the core matters of the Christian Faith and to help them decide how their faith applies to their own situations.
NUA: Origins will provide a learning environment that empowers young people to engage with Jesus and assess His call on their lives. It will enable them to remain in the faith community at a crucial junction in their lives.
The project will involve eight episodes looking at the nature of God and His Creation 'Masterpiece', the meaning of Jesus's death 'Worth', Jesus's Resurrection 'New Beginnings', Prayer 'Connection', The Bible 'Story', The work of the Holy Spirit 'Charged', Jesus's Church 'Belonging' and living as a Christian 'Journey'.
They are excited for how NUA: Origins will be a blessing to all youth ministry in schools and churches which seek to engage with young teenagers.
Scripture Union are delighted that they have already received 80% of our budget. They would ask that you would consider giving a one-off gift to help them with the remaining €15,000. There are rewards!!
search for mass times
upcoming events
confirmation dates etc
View dates
click here for more