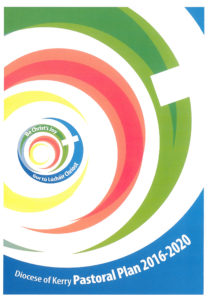 This document is a Pastoral Plan for the Diocese of Kerry for the period, 2016 -2020. It describes our priorities and what we need to do in order to witness to Jesus Christ and reflect the hope of the Gospel in today's world.
This Pastoral Plan is a response to the hopes, concerns and issues expressed by people. It builds on an effective parish, pastoral area and diocesan infrastructure; increased appetite for ongoing training; and the commitment of clergy and people evident in the parishes throughout our diocese.
Our parishes are alive and deeply relevant in 21st century Ireland. The challenge now is to proclaim the joy of the Gospel in a way that touches peoples' hearts and lives in these ever-changing times.
To achieve this, we will focus on three goals for the coming five years:
Develop welcoming, faith filled communities relevant to the age we live in;
Enable people to deepen their faith and proclaim the Good News of Jesus;
Be a catalyst for compassion and justice.
Our Purpose
Proclaim the Good News of Jesus Christ joyfully through witness, community, worship and service.
Our Vision
To be a welcoming compassionate faith community, with Christ at its centre, calling forth the gifts of all for the good of the world to the glory of God.
CLICK HERE to download Pastoral Plan 2016-2020
CLICK HERE to download Plean Tréadach 2016-2020
CLICK HERE to download Resource Book for Parish Pastoral Councils Jan – Aug 2016
Diocese of Kerry RESOURCE BOOK 2019-20
Review of Pastoral Plan 2016-2020