Ceiliúradh na nOg 2022
This year Ceiliúradh na nOg will be celebrated online.  Schools are asked to submit a two to three minute audio clip and pictures of students carrying out the project.  All audio clips and pictures can be sent to Tomás Kenny at tomaskenny@dioceseofkerry.ie by Wednesday, May 4th 2022
Ceiliúradh na nÓg 2021 – 2022 Resource Book
Ceiliúradh Online Celebration 2021
This year Ceiliúradh na nOg will be celebrated online.  Bishop Ray will open the celebration with a few words of welcome.  This will be followed by online presentations from the schools who participated, there will be input from a number of guest speakers and the event will close with a performance from the virtual choir representing all the schools who took part.  Please see resource booklet below for details of the topics for Ceiliúradh na nOg 2021.
Ceiliúradh na nÓg 2020 – 2021 Resource Book
What is Ceiliúradh na nÓg?
The purpose of Ceiliúradh na nÓg is to develop the faith life of Transition and Fifth year students. This will be achieved through school or parish based initiatives.
The programme forms part of a comprehensive approach to Youth Ministry initiated by the Diocese of Kerry. It is coordinated by the Diocesan Advisor in collaboration with the principals, teachers, chaplains and students of the diocesan Post-Primary schools.
For the academic year 2019-2020, the programme will be carried out through a number of stages. The students will actively participate in a faith based programme of exploration, action, reflection and presentation.
Ceiliúradh na nÓg 2019 – 2020 Resource Book
The Celebration Day for Ceiliúradh na nOg will take place on Wednesday, March 25th 2020 in the Brandon Hotel, Tralee.  Notes on how to prepare the presentation can be found in the resource booklet – see link above.
The guest speaker for this year's event is Fr. Chris O' Donnell.  Chris is a priest of the Limerick Diocese.  He originally worked as a primary teacher in Naas.  Since being ordained he has spent the majority of his time happily working with youth people.  He is currently serving as a priest in Kilmallock and the surrounding parishes.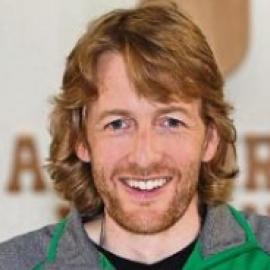 The theme for the day is #LittleThings – "If you have faith as small as a mustard seed…. Nothing will be impossible for you." Matthew 17:20.  He will look at the little things young people can do on a life and faith front to be more positive.
I greatly look forward to meeting with all the students and teachers as we experience how the students lived out the joy of Christ through their various projects and faith activities.
For more information please feel free to call myself on 086 3683778 or email tomaskenny@dioceseofkerry.ie