Máirt…March
1 -17 Máirt/March:
Seachtain na Gaeilge
Seachtain na Gaeilge  is an international Irish language festival and one of the biggest celebrations of our native language and culture that takes place each year in Ireland and in many other countries
An bhuil cúpla focal agat? Bain taithneanh as iad a úsáid. Dia dhuit.
Obair: Tóg bog é; Go hiontach; Dia 's Muire agat; Go raibh maith agat; Conas tá tú? Níl aon tinteán mar do thinteán féin;  's ar scáth a chéile a mhaireann na daoine.
Fairtrade Fortnight continues until the 12th of March
Theme: Be Fair-Do Sustainable. Choose Fairtrade now and help save our favourite foods as well as farmers' livelihoods, and the environment!
Did you know that in Ireland fifteen of the top 20 warmest years on record have occurred since 1990?
In the Tropics near the Equator, where most commodities like coffee, cocoa and bananas grow, 'the hottest 5% of days are expected to warm by a further 20 percent than on the average day. This increased warming of extreme temperatures will have severe impacts on human health, ecosystems and wildfires across large parts of Africa, Asia and the Americas. (Dr. Michael Byrne, University of St Andrews)
As a result of this and other chaotic climate change impacts, communities growing these crops are being pushed to the brink and cocoa, bananas and coffee products could soon be much more difficult to find on our shelves!
Action:  Choose Fairtrade for extra income, power, and support for those communities, as they work to build sustainable and prosperous futures.
Choose Fairtrade as its better for people and planet, and it could help save everyday treats like chocolate, bananas and a cuppa!
Check out FAIRTRADE and or find them on facebook. Join an online event and meet people from Ghana, Honduras, Nicaragua…Highlight the FAIRTRADE Mark for the next seven days..Buy FAIRTRADE Mark coffee and tea.
Make your home, school, office, club, church, parish a Fairtrade place
3 March/Márta 
World Wildlife Day
Action: What are our native Irish fauna? Have you a hedgehog hibernating under leaves in your garden…go gently if tidying those leaves
Hedgehog and Curlew…can you name any more? Cad is ainm dóibh?
5th March/Márta
Women's World Day of Prayer
This is a global ecumenical movement led by Christian women who welcome you to join in prayer and action for peace and justice.
Prepared in 2021 by Women of Vanuatu
The Republic of Vanuatu is an island nation in the South Pacific Ocean. The Y-shaped chain of fourteen main islands is of volcanic origin and home to several
Action: Join your prayer this day  with women and men all over the world…
7th March/Marta
UN International Women's Day
All around the world, International Women's Day represents an opportunity to celebrate the achievements of women while calling for greater equality.
Action: Celebrate the women in your life, a sister, daughter, mother, grandmother, a colleague. Look for and join in online celebration.
7th March/Márta:
Annual Trócaire Lecture  7pm
Theme: Catholic Social Teaching…recording available at Trocaire.ie
17 March/ Márta
St. Patrick's Day
Christ with me, Christ before me………Christ on my right, Christ on my left…
Action: Reach out…safely… to someone from another country who has come to live in Ireland.
18 March/Márta
Global Recycling Day.
Action: Use your local recycling banks for bottles, cans, paper and BEE THE CHANGE!
21 March/Márta
Diocese of Kerry Webinar to mark International Day for the Elimination of Racial Discrimination (UN)
Responding to the reality of Immigration.
"Racism divides and exploits anxieties by spreading fear through misinformation" –
In response to recent reports of racism and xenophobia in Ireland, bishops said, "racism is the opposite of encounter.  It seeks to divide and to exploit anxieties by spreading fear, often through misinformation.  There is no place for racism in Ireland.  As a people with a long history of emigration, particularly in the light of the famine, we know deeply within ourselves what it is like to have to leave one's homeland and seek shelter and a better life.  May our response to people seeking refuge be: 'welcome, protect, promote and integrate' (cf Pope Francis, Fratelli Tutti. 129)."
"together, let us continue to build a culture of welcome, encounter, and integration everywhere in Ireland.  May we always see Jesus, who Himself was a refugee, in the face of others, especially those who seek shelter in our midst.  May our communities be spaces of welcome for the flourishing of all." Irish Catholic Bishops Spring Meeting 2023
Action: Register and attend the diocesan webinar 'Who is my Neighbour?
and
International Day of Forests
and
19-26 March/Máirt National Tree Week Seachtain Náisiúnta na gCrann   
the designated week for tree protection awareness in Ireland, organised by the Tree Council of Ireland and Coillte.
Just think…everyday one tree supplies enough oxygen for more than 4 peop
 'and the leaves of the trees are for the healing of the nations' Revelation 22:2                        Trees take in carbon dioxide from the air and convert much of it into wood. They also produce oxygen. Every year, each hectare of Ireland's forests takes in 3.4 tonnes of carbon from the atmosphere, which helps in the battle against climate change.
Action:  Why not hug a tree or maybe plant a tree in your garden, school, farm, parish this week.
22   March/Márta
World Water Day
Praise be to Thee my Lord for Sister Water,she is useful and humble,precious and pure.
Action: Drink a glass of water slowly today and savour it. Pray for all those affected by drought with no access to clean water.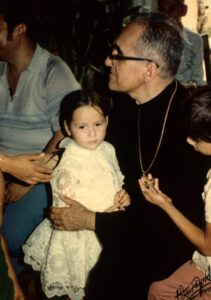 24 March/Márta
Saint Oscar Romero (Murdered in El Salvador in 1980)
A man compelled by the Gospel to speak out against injustice.
"The martyrdom of the Servant of God Oscar Arnolfo Galdámez Romero, Archbishop of San Salvador; born August 15, 1917 in Ciudad Barrios (El Salvador) and killed in hatred of the Faith, March 24, 1980, in San Salvador (El Salvador)"
Action: Now inspired by Martyr Saint Oscar Romero and others be a voice for justice here in Kerry.
Saturday 25th March/Márta
 Earth Hour  8.30pm -9.30pm   Theme for 2023:  "I Shape Our Future."
Climate change is real, and it is affecting us in one way or another.
Earth Hour aims to encourage an interconnected global community to share the opportunities and challenges of creating a sustainable world.
Earth Hour was started as a lights-off event in Sydney, Australia in 2007. Since then it has grown to engage more than 162 countries and territories worldwide.
Action: Consider your use of energy. Can you reduce it? CLICK HERE to calculate your carbon footprint  and of course turn off your lights at 8.30pm and spread the word!
29 March/ Márta
A screening of 'The Letter' film-documentary. Pastoral Centre, Rock Road, Killarney. Free
This is a call to action to save Our Common home. All welcome. Org: JPIC Committee with Trócaire Volunteers.
Other Lenten Actions
-Keep putting money into your Trócaire Box
-Fast from gossip!
-Pray with the Lenten gospels:
-Pray the Stations of Creation in Tralee
Visit St Johns website and download their Lenten Booklet (The Stations of Creation begin on page 12)
SAVE THE DATE:
22 April  Earth Day  Theme: 'Invest in Our Planet'.
A suggestion for a book to read during these Lenten days.
A Creed for Today. Faith and Commitment for our New Earth Awareness. Donal Dorr. Published by Veritas
"We are all involved in the construction of a better world"  Pope Francis