October..Deire Fomhair
Mission Month

and….closing days of the SEASON of CREATION (1st September – 4th October)…Séasur An Chruthaithe in the Diocese of Kerry and around the world
Our theme for this year has been Cultivating Hope: Restoring Our Common Home with Caring For God's Creatures as a sub-theme.
Remembering the words of Pope Francis "The climate crisis requires our decisive action, here and now and the Church is fully committed to playing her part."
Have you taken up any of the suggested actions in the leaflet sent to all parishes and available here, in the areas of biodiversity, food, plastic pollution, energy  and the climate crisis? If so keep them up.
1st October/Deire Fómhair
St. Thérèse of the Child Jesus/St. Teresa of Lisieux. 'The Little Flower'
"The Lord led her and taught her and kept her as the apple of his eye" Deut. 32
Action: What simple or little things can we do today to make our world a better place, offer a prayer, a smile, pick up a piece of litter, enjoy this God- given day. Walk slowly in a quiet way around your own area, garden or wood.
3rd October/Deire Fómhair
Blessing of Pets (Churchill, The Spa )
This will take place in the grounds of Churchill Church at 3.30pm.
Action: Bring your pet or animal along for a blessing, and continue to care for them.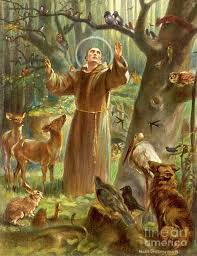 4th  October/Deire Fómhair
The Feast of St Francis of Assisi
Praised be you …Laudato Si'.
Praised be You, my Lord, through our Sister Mother Earth,
who sustains and governs us,
and who produces various fruit with coloured flowers and herbs.
Taken from The Canticle of the Creatures by  St Francis of Assisi.
Action: Pray for the Franciscan family around the world: lay associates, sisters, brothers and priests.
Close of the 'Season of Creation'.
Action: Consider taking time to read a page or two of the Pope Francis' Letter 'Laudato Si'   eg paragraph 211 and then take up one or two of the little actions the Pope suggests such as separating refuse, reducing water consumption.
Sign the petition www.healthy planetandpeople.org to add your voice to people from all over the world who Pope Francis will represent at the opening of the UN conference on Climate Change in Glasgow in November.
7 October/ Deire Fómhair
Tree Day/Lá na gCrann… SPAR National Tree Day
Tree Day is organised each year by the Tree Council of Ireland with the support of its members and the Green-Schools and tis year us being sponsored by SPAR, with the theme: 'Trees are Good Neighbours' – 'Is comharsana den scoth iad crainn'. To help, The Tree Council is giving away FREE saplings of the Irish native trees – the Wild Cherry – also known as Prunus avium or Crann Silíní Fiáin – for you to plant on your school grounds or in a pot in your classroom. The Wild Cherry is a fantastic neighbour; for bird friends love to feast on the cherries that appear each autumn! Sammy Squirrel's number one tip this year is to plant more trees!  Sammy reminds us that trees absorb carbon dioxide and release oxygen and help reduce the risk of climate change. They also provide shelter and food for birds, insects and animals.
And to make you laugh from the Forest Fun and Jokes Page .. Why did the leaf go to the doctor?
It was feeling green!
Action: Plant a tree, hug a tree, breathe deeply as you walk in the woods. Visit this page for lots of ideas. Give thanks for God's creation
7 October/ Deire Fómhair
Our Lady of the Rosary
May we imitate what the mysteries contain, and obtain what they promise….
Action: Reflect on the Sorrowful Mysteries today and reach out, like Veronica, to help those you meet. Luke 23
10th October/Deire Fómhair
On this day people around the world will work in a variety of ways to change the lives of people experiencing homelessness.
Action: Listen in and learn more on Horizons, Radio Kerry at 9am (after the news).
15 October/Deire Fómhair
St. Teresa of Avila
Let nothing disturb you; Let nothing dismay you: all things pass; God never changes.
Patience attains all that it strives for.
He/She who has God finds he/she lacks nothing: God alone suffices. St. Teresa
Action: Say this often…let it become a mantra n your life.
17th October/Deire Fómhair
UN International Day for the Eradication of Poverty.
The theme for the Day this year "Building Forward Together: Ending Persistent Poverty, Respecting all People and our Planet".
Building forward means transforming our relationship with nature, dismantling structures of discrimination that disadvantage people in poverty and building on the moral and legal framework of human rights that places human dignity at the heart  of  policy and action. Building forward means not only that no one is left behind but that people living in poverty are actively encouraged and supported to be in the front, engaging in informed and meaningful participation in decision making processes that directly affect their lives. In building forward, we need to let ourselves be enriched by the wealth  of wisdom, energy and resourcefulness that people living in poverty can contribute to our communities, our societies and ultimately to our planet.
Action: Consider one small action you and your family could do
18 October/Deire Fómhair
EU Anti-Human Trafficking Day
The yearly EU Anti-Trafficking Day on 18 October makes both policymakers and the general public reflect upon the response to trafficking in human beings in Europe.
Pope Francis has described human trafficking as modern slavery and one of the greatest threats to the global common good and "an open wound on the body of contemporary society".
Action: Don't close your eyes to Human Trafficking. Learn more about it
and
21st October/Deire Fómhair
Diocese of Kerry Mission Webinar @8pm
'We Cannot Remain Silent'
"We cannot but speak about what we have seen and heard" Acts 4:20
Speakers: Sr Orla Treacy, Loreto Sister and Fr Tim Galvin, Kiltegan Missionary priest Of Fealebridge, both working in South Sudan and Julieann Moran, Team member, Missio Ireland.
Action: Register today on this website.
Action: Consider one small action you and your family could do.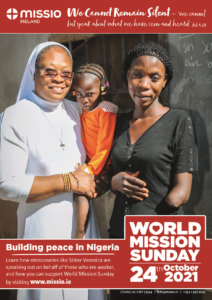 24th October/Deire Fómhair
Mission Sunday
This year's World Mission Sunday theme 'We Cannot Remain Silent'
"We cannot but speak about what we have seen and heard" Acts 4:20
"Once we experience the power of God's love, and recognize his fatherly presence in our personal and community life, we cannot help but proclaim and share what we have seen and heard. Jesus' relationship with his disciples and his humanity, as revealed to us in the mystery of his Incarnation, Gospel and Paschal Mystery, shows us the extent to which God loves our humanity and makes his own our joys and sufferings, our hopes and our concerns (cf. Gaudium et Spes, 22). Everything about Christ reminds us that he knows well our world and its need for redemption, and calls us to become actively engaged in this mission: "Go therefore to the highways and byways, and invite everyone you find" (Mt 22:9). No one is excluded, no one need feel distant or removed from this compassionate love."              Pope Francis'  Message for World Mission Day 2021
Action: What can you do for missionaries today? On this Sunday, in a special way, we celebrate the work of nearly 1,300 Irish born missionaries and all missionaries throughout the world. We thank God for them, for all who support them in our own country and during mission month we unite ourselves in prayer with them and with the communities with whom they work.
Throughout the month, there are many, many ways you can show your support – be it through action, giving or prayer.
Now think about where YOU are called to be that missionary, to break new ground and to work on a new frontier