Saint Brigid's Church, Duagh & Sacred Heart Church Lyreacromapne.
Parish Office Phone 068 45102 Tuesday – Thursday, from 10.00am – 1.00pm
Parish Moderator: Canon Declan O'Connor    email address: duagh@dioceseofkerry.ie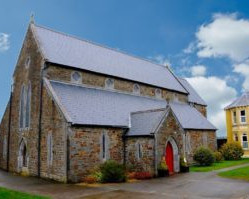 Please note, due to GDPR Regulations all funeral recordings will be password protected.  The password is given to the next of kin to distribute to anyone who wants/needs to view it.
Recordings will be available for 7 days afterwards and can be downloaded by you when using Google Chrome.
Recordings must be requested in advance to the Church for a Funeral Mass.
The parish of Duagh is served by the priests of the Listowel Pastoral Area with Fr Declan O' Connor as Moderator.
The Presbytery,
Duagh
Tel: 068 45102 
duagh@dioceseofkerry.ie
Duagh/Lyre Parish Newsletter
St Brigid's Church Duagh

Weekly Mass times

Monday, Wednesday & Thursday  @10.00am

Tuesday& Friday @ 7.30pm

Sunday morning @11.30am

Sacred Heart Church, Lyreacrompane
Weekly Mass times

Sunday morning @ 10.00am

www.dioceseofkerry.ie, click on parishes, click on Duagh
***********************************************************