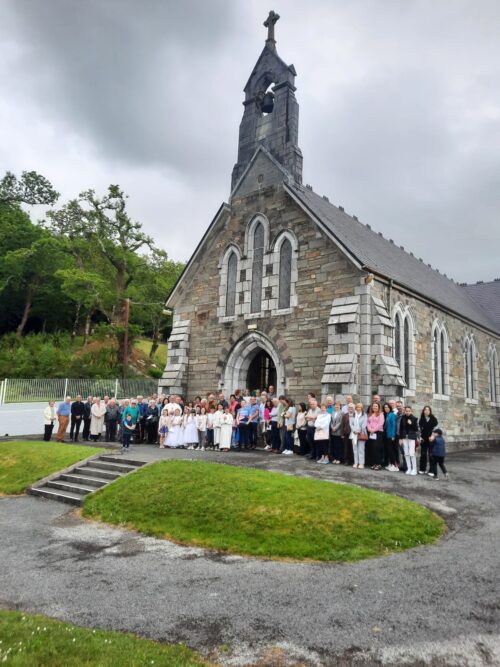 Fundraising for Glengarriff Sacred Heart Church
Where we are:
Glengarriff in West Cork and the Diocese of Kerry is a place blessed with natural beauty and a strong sense of community. Flanked by Bantry Bay and the Caha mountains, and with Garnish Island and the Nature Reserve Woods, it makes a breath-taking environment to visit or live in.
Who we are:
Community is at the heart of Glengarriff and the Sacred Heart Church holds a deeply important place in our hearts. It plays a central role in parish life, serving as a gathering place for weekly worship, ceremonies and a place for solace and reflection. It is the parish Church for Glengarriff and Bonane and further emphasizes its importance within the whole area.
Why we need your help:
The church needs major restoration work, including repairing walls, repainting & flooring, which comes with a significant cost of approximately €100,000. Such an expense is challenging for a small community like ours.
Restoring a place of worship goes beyond mere construction work. It is about preserving a symbol of unity and providing a sanctuary for both locals and visitors. The Sacred Heart Church offers a peaceful retreat where individuals can find comfort and a sense of belonging, regardless of their backgrounds or beliefs.
How you can help:
With the work starting in June your support can help the restoration project become a reality for the parish of Glengarriff and Bonane. By contributing you will be helping to maintain a vital place in the community where we gather for worship, ceremonies, solace, and reflection.
https://www.gofundme.com/f/glengarriff-church
Your contribution, no matter the size, can make a meaningful difference in preserving this treasured place of worship, community gathering, and the important celebrations of our lives. On behalf of all the parish we thank you.