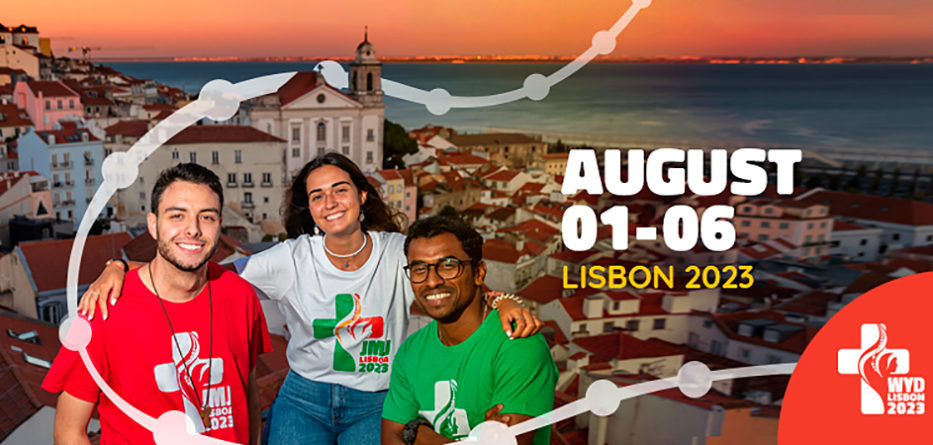 This July 31st, fourteen young people from throughout the diocese will travel to Lisbon, Portugal for the celebration of World Youth Day.  World Youth Day (WYD) is the gathering of young people from all over the world. It is also a pilgrimage, a celebration of youth, an expression of the universal Church and an intense moment of joy.  Although its Catholic identity is clearly evident, WYD opens its doors to everyone, no matter how close to or distant from the Church they are.
We travel from Dublin to Lisbon on Monday, July 31st and return on Tuesday, August 8th, 2023.  The cost of the pilgrimage is €1,400 but parishes are happy to subsidize this cost.  Over the course of a week, young people from all over the world are welcomed, mainly in public (gymnasiums, schools, pavilions, hotels, hostels …) and parish facilities or family homes. In addition to the moments of prayer, sharing and leisure, the young people enrolled in this celebration participate in various initiatives organized by the WYD team, in different locations across the host city.  The highlights are the celebrations for which the Pope is present, such as the welcoming and opening ceremony, the Way of the Cross, the vigil and, on the last day, the closing mass.
We still have three places left for anyone who might like to come.  Please contact Tomás Kenny on 086 3683778 or email tomaskenny@dioceseofkerry.ie for more information.
Click on this link for application form: WYD – 4pg DL (2) (1)