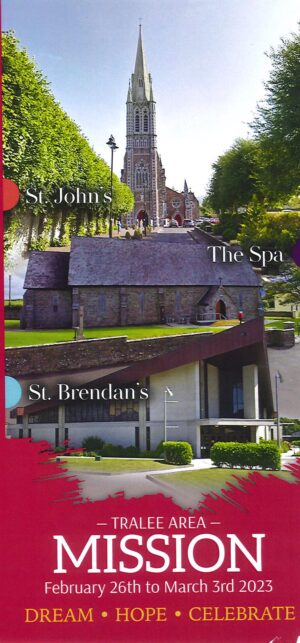 The parishes of St. John's, St. Brendan's and the Spa are delighted to invite you to the first Tralee Area Mission. It is an exciting venture for us, as the three neighbouring parishes will be on Mission during the same week. The mission will be a time for gathering in church after two very difficult years. It will also be an opportunity to reflect on our lives, to reflect on our faith and how we can live as Christians in these times.
The themes of "Dream; Hope; Celebrate" will be at the heart of our week. To dream of a better parish community and a better world; to hope in the future despite the turmoil of life and to celebrate our faith as a parish community. We invite you to join us, in which ever church you wish to attend. It doesn't matter if you don't go to church or if you attend each day, this Mission Week is for everyone. We hope you can join us and that you will experience encouragement in the different ceremonies and events.
St. John's Church MORNING MASS Monday – Friday: 7.30am & 10.00am
WORKSHOPS (Monday – Friday: 11.00am) Monday: Introduction to the Bible. Tuesday: Stained Glass Windows of St. John's. Wednesday: Accord. Thursday: Addictions. Friday: Encountering Mercy in the Gospel.
EVENING MISSION (7.00pm) Sunday: We dream of a Church that is welcoming to all people. Monday: We dream of a Church that is family. Tuesday: We dream of a Church that offers healing. Wednesday: We dream of a Church that is merciful. Thursday: We dream of a Church that acts justly, loves tenderly and walks humbly with God. Friday: We dream of a Church that is Missionary. Mass for the sick, elderly and infirm with anointing of the sick Monday 3.00pm
St. Brendan's Church MORNING MASS: Monday – Friday: 7.00am & 9.30am
EVENING MISSION (7.30pm) Sunday: Building Community. Monday: Welcoming all Families. Tuesday: Healing our Brokenness, followed by Prayer around the cross at 8.30pm. Wednesday: Beauty of Creation. Thursday: Faith and Daily Living. Friday: Celebration and Thanksgiving.
Blessing of babies and infants after all Masses on the weekend of February 25th/26th. Mass for the sick, elderly and infirm: Tuesday 3.30pm
Slí Bhreanainn – in the Footsteps of St. Brendan
We are steeped in the story of St. Brendan with many significant sites around North Kerry. A bus tour will take place on Saturday 25th February to some of these sites such as Fenit, Wether's Well and Ardfert. The bus will depart from St. Brendan's Church carpark at 10.30am, stopping at the statue in Fenit for a prayer reflection at 10.45am. The tour will take 3 hours and finish with refreshments in St. Brendan's Pastoral Centre. As places are limited, booking is essential. If you wish to join to tour, please contact Fr. Padraig, 087 9808542.
Churchill Church MORNING MASS Thursday and Friday: 10.00am (Adoration on Thursday 3pm – 7.00pm)
EVENING MISSION Sunday 6pm: Gathering & Celebrating Community. Monday 8pm: Celebrating the Gift of Healing. Tuesday 8pm: Celebrating the Gift of Creation. Wednesday 8pm: Celebrating the Gift of Family. Thursday 8pm: Celebrating the Gift of Forgiveness. Friday 8pm: Celebrating the Gift of Baptism & the Holy Spirit.
WORKSHOP (Thursday: 11am – 12.00pm) Parish Office Churchill: Praying with the Scriptures: Lectio Divina. Blessing of babies on Sunday 26th at 12.45pm
Fenit Church MORNING MASS Monday and Tuesday: 10.00am Wednesday: 10.00am followed by Adoration till 12.00pm
WORKSHOP (Tuesday: 11am – 12 noon) Fenit Parish centre: Compassion & Forgiveness: Twin Pillars of Healing.
St Brendan's Statue Fenit: Prayer Service at 10.45pm on Saturday 25th February