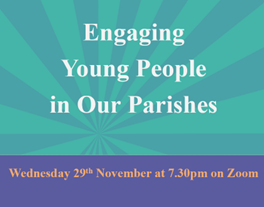 We welcome people across the diocese who have a heart for young people, who have previously worked with youth in parish life, or those who may be interested in working with young people in their parish now,
Join us online via zoom on Wednesday November 29th @ 7:30pm
The meeting is a chance to share experiences past and present, explore new ideas, get a sense of the realities in parishes and see how we can move forward in engaging with young people in our local parishes.
If you would like to join us in this conversation, please register through clicking on the link below.
If you know someone who may be interested, please send them the link to join the conversation.
https://us06web.zoom.us/meeting/register/tZIsc-upqj4uHNYAfHXvFXf6LvQf5afWqbVb