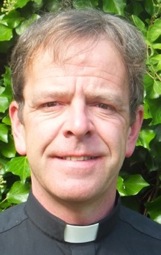 Bishop Ray Browne on hearing of the sudden death of Fr. Donal O Connor expresses his deep shock and sadness. Bishop Ray offers his sympathy to all who mourn him, especially the O Connor family, his diocesan family, and all those he worked with as chaplain in M.T.U. Tralee. May Fr. Donal Rest in Peace.
Donal O Connor was born in Rathmore in 1961.  He studied for the priesthood in St. Patrick's College, Maynooth and was ordained on the 22nd September, 1996. From 1997 to 2002 he was Chaplain in Beara Community School and curate in Castletownbere parish. He then moved to Listowel Parish for eight years. This was followed by 5 years as parish priest of Beaufort. His final appointment was as Chaplain to what was previously Tralee IT and now Munster Technological University.
Fr Donal was a much loved priest with a wicked sense of humour and a poetic turn. He generously contributed to Horizons and Just a Thought over the years and was a memorable guest speaker at various diocesan events including online events during Covid. Fr. Donal will be sadly missed.