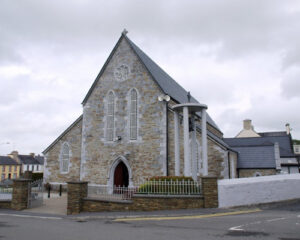 Join us on our new Rathmore website
TO BOOK ATTENDANCE AT MASS CLICK HERE
Welcome to the Parish of Rathmore. In our parish people are nourished by the Word of God. It is a parish where love is tangible and practical. It is a place where people pray together. Our parish community is centred on Jesus Christ, on knowing and loving him. It is incarnated in the love we show one another.
We have four Churches:
St. Josephs Church Rathmore Church of the Holy Rosary, Gneeveguilla
Church of Christ the King, Knocknagree,
Church of our Lady of Perpetual Succour, Shrone
email address: rathmore@dioceseofkerry.ie
Parish Office opening hours: Monday , Tuesday & Thursday 9.30am to 12.30pm. Friday 11am to 2pm. Closed Wed.
Parish Office (064) 7761669 or email : rathmore@dioceseofkerry.ie Fr. Pat O'Donnell P.P. 064 7758026 / 086 8351732
Booking of Masses, Mass Cards, any query, just call, phone, or email. leave a message and we will get back to you.

| Church | | Sat | Sun | Holy Days |
| --- | --- | --- | --- | --- |
| St Josephs Church Rathmore | |  Sat  6.00pm | 11.30am | |
| Church of the Holy Rosary, Gneeveguilla  Mass streamed online | | |  Sun: 10.00am | |
| Church of Christ the King, Knocknagree  (streaming ) | | Sat: 7.30 pm | | |
| Church of our Lady of Perpetual Succour, Shrone | | |  9.00am | |