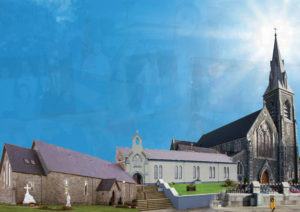 Church names left to right:  Immaculate Conceptin, Cordal.  Our Lady of Lourdes, Scartaglen and Saints Stephen and John, Castleisland.
To Join us via live streaming please click on below:
https://www.churchservices.tv/castleisland/embed"
Graveyard Masses: The Diocese of Kerry and Kerry County Council, have advised against celebrating Mass in cemeteries this year.  Therefore, Masses will be celebrated for loved ones buried in our Parish Cemeteries in Castleisland Parish Church and through live stream and radio. Please note that in relation to Cordal and Scartaglen, Castleisland Parish Church will be reserved for community congregations on their dates.  It is important also that Cordal and Scartaglen would bring their own announcer, reader and singer. It is important that all areas have a sense of ownership for their own celebration.
Graveyard Mass will be held in Castleisland Parish Church on the following dates:
Wednesday 29 July at 7.30pm for Castleisland Graveyards
Wednesday 5th August at 7.30pm for Scartaglen Graveyard
Wednesday 12th August at 7.30pm for Cordal Graveyards
Parish Office, Mass Cards and Religious artifacts now located to the front of Castleisland Parish Church. Open Monday to Friday 9.00am to 2.00pm.
Padre Pio Devotions in Castleisland Parish Church
on the First Tuesday of each month at 7.30pm
Confirmation Date 2020: Thursday 27th February at 3.30pm

Re-arranged First Holy Communion Dates 2020
Saturday 12th September @11am Gael Scoil Aogian in Castleisland Parish Church.
Saturday 12th September @  2pm Cordal National School in Cordal Church.
Saturday 19th September @11am Muire Gan Smal, Boys NS and Curranes NS in Castleisland Parish Church.
Saturday 19th September @  2pm Scartaglen NS in Scartaglen Church.
Everything depends on the Pandemic at the end of the day. Stay Safe🙏
May the peace of the Risen Christ be with you!
Castleisland Parish Church Mass on line:  Parish Masses on Weekdays and Weekends are now available on line.  If you have access to the internet log onto: www.churchservices.tv /castleisland
Castleisland Parish Office
Noreen O'Sullivan, our Parish Secretary, is in the office between 9.00am and 2.00 pm from Monday to Friday.  The office number is 066 7141241
Email castleisland@dioceseofkerry.ie
For inquiries re baptisms, weddings, booked Masses and much more please feel free to call in or contact us by telephone.
Exposition of the Blessed Sacrament
Each Friday in Castleisland Parish Church from 11.30am to 6.45pm
Scartaglen Church on Mondays from 10.00am to 9.00pm
Readings for next weekend– are available on table near Sacristy door in Castleisland Parish Church
Confessions: Friday after 11.00am Mass and Saturday at 5.30pm before the 6.15pm Vigil Mass
Baptism:  Congratulations on the birth of your child.
Baptisms in the Parish usually take place in Castleisland Parish Church on the first and third Saturday of each month at 4.00pm and after the  11.30am Mass on the second and fourth Sunday. Please check with Parish Office 066 7141241 due to Covid-19 times may have changed.
Cordal Church after the 9.30am on Sunday.
Scartaglen Church after the 10.30am Mass on Sunday.
An application form can be downloaded from this site (see below). Please complete the application form, together with your childs birth certificate. The application form can be handed into the parish office during office hours. Occasionally we get a request as to what are the requirements for Godparents. The following are the diocesan guidelines. A godparent must be a baptised Catholic who is at least sixteen years old, has received the sacraments of Holy Eucharist and Confirmation, and is in good standing with the Catholic Church.  Most parents choose their children's godparents because of a personal relationship. But "godparent" is not merely an honorary title we bestow because someone is a friend or because it's a certain relative's "turn." A godparent is supposed to be involved in the faith formation of the child as a Catholic.
Application form for Baptism
House Blessing
If you would like to have your home blessed please contact the parish office and leave your details and we will contact you and to arrange a visit
New to the Parish
If you are new to our parish, we welcome you. We hope that you will feel part of the life of the parish. If you would like to register as a parishioner please contact the Parish Office.
Castleisland Church Monday 7.00pm Mass: Mass intentions for all those we have been asked to pray for through the Parish Office (this Mass is for all the Mass card intentions signed at the parish office)
Safeguarding Children
Three parishioners have been trained in the parish. Further details on the Parish and Diocesan policy in relation to safeguarding children can be found on the notice board of the Churches of the Parish. 
Getting Married?
At least six months' notice of the marriage should be given to the parish where the bride and groom live. A pre-nuptial enquiry form is completed by both the Bride and Groom. The State obliges you to give at least six months notice. For this purpose you may contact: Office of Registration of Births, Deaths & Marriages, Health Service Executive, Kerry Community Services, Rathass, Tralee, tel: 066) 7195632. Couples are requested to attend a Pre Marriage Course as part of the marriage preparation. In Tralee, pre-marriage courses may be arranged through ACCORD, at St. John's Parish Centre, Tralee tel: (066) 7120194/7122280. Early booking is essential. Couples who may be considering doing courses other that ones organised by Accord are advised to speak to Fr Dan to ensure that the course meets the Church requirements. 
Primary Schools
Castleisland Boys National School              066 7142420
Scoil Ide, Curranes                                            066 7142021
Kilmurry National School                               066 7142356
Presentation Convent National School      066 7141147
Scartaglen National School                             066 7147104
Scoil Aogain                                                          066 7142022
Post Primary Schools
Presentation Secondary                               066 7141178
St Patrick's Boys Secondary                       066 7141963
Community College                                        066 7141196  

To Join us via live streaming please click on below:
https://www.churchservices.tv/castleisland/embed"
Parish News Letter:  16th August 2020
| CHURCH | WEEKDAYS | SATURDAY | SUNDAY | HOLY DAYS |
| --- | --- | --- | --- | --- |
| St Stephen and St John, Castleisland | Monday to Friday at 11.00am.  Weekday evening Monday Tuesday and Friday at 7.00pm | 6.15pm | 11.30am |  same as Sunday |
| Immaculate Conception, Cordal |  As announced |   | 9.30am |   |
| Our Lady of Lourdes, Scartaglen | As announced |   | 10.30am |   |