Our Parish is a group of families and individuals who strive to live out the Gospel message. The Gospel gives meaning, direction and hope to our lives. We believe that Christ came that we might have life and have it to the full. If you are new to our Parish community and would like to find out more about us please feel free to contact us.
Priest: Fr. David Gunn              
Address: The Presbytery, Brosna, Tralee, Co Kerry              
Tel no: 068 44112
email: brosna@dioceseofkerry.ie
We have two churches in the parish.
The Church of St. Carthage, Brosna  
Our Lady of the Assumption, Knockaclarig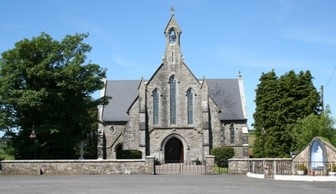 The Church of St. Carthage, Brosna
Our Lady of the Assumption, Knockaclarig 
First Holy Communion Dates 2020:
Brosna N.S.                    Saturday 2nd May at 11.00am.
Knockaclarig N.S.         Saturday 16th May at 11.00am.
Dates for Preparation for Holy Communion 2019/2020
Enrolment Mass, 9th/10th November 2019
Feast of Christ the King, 23rd/24th November.  We Celebrate the Saints.
Second Sunday of Advent, 7th/8th December. We Wait for Jesus' Birth.
Third Sunday on Ordinary Time, 25th/26th January. We Listen to God's Word
Sixth Sunday in Ordinary Time, 15th/ 16th February. I'm Sorry
Third Sunday of Lent, 14th/ 15th March. Lent
Third Sunday of Easter, 25th/26th April. We Give Thanks
Harvest Mass in Brosna and Knockaclarig
The Presentation Sisters, Castleisland were invited to Brosna Church on 11th May 2019 for the unveiling of a plaque to acknowledge their generous gifts to the parish.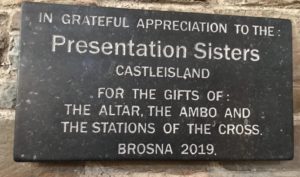 First Holy Communion 2019:
Congratulations to the children of Knockaclarig N.S. who received their First Holy Communion on Saturday 25th May in The Church  of the Assumption.
Congratulations to the children of Scoil Mhuire, Brosna who received their First Holy Communion on Saturday 4th May in St. Carthage's Church.
Confirmation 2019:
The boys and girls from Brosna N.S. and Knockaclarig N.S. were confirmed by Bishop Ray Browne on Thursday 4th April in St Carthage's Church, Brosna.
Kerry Diocesan Collections 2019
5th/6th January, Needs of the Holy Land
9th/10th Feb. Lourdes Helpers
16th/17th March, Emigrant Services
27th/28th April, Peter's Pence
18th/19th May, Education of Clergy
8th/9th June, Family Services & Accord
6th/7th July, Sick and Retired Priests
10th/11th August, Pastoral and Retreat Centres
31st Aug./1st Sept, Diocesan Needs
19th/20th Oct, Propagation of the Faith
9th/10th Nov, Irish Church Commissions and Agencies
30th Nov/1st Dec, Diocesan Youth Service
Recent Events:
Thanks to everyone who helped with and supported our first Brosna Christmas Market. A special word of thanks to Dora Broderick and family who organised and planned the event. A lovely evening was enjoyed by all
Many thanks to everyone who helped in the running of the Jimmy Buckley Concert last Saturday night. A lovely night was had by all, thank you for your support.
Baptisms
Baptisms are at  pre-arranged times.
Church Notices must be in for 2.00pm on Thursdays.
| CHURCH | WEEKDAYS | SATURDAY | SUNDAY | HOLY DAYS |
| --- | --- | --- | --- | --- |
| St Carthage, Brosna | As announced | 7.30pm  |   | 7.30pm  |
| Our Lady of the Assumption, Knockaclarig |  As announced |   | 9.30am | 9.30am |