St. John's Church, Ballybunion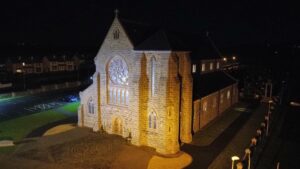 PARISH PRIEST:
Fr. Sean Hanafin
PARISH SECRETARY:
Geraldine O'Connor
PARISH OFFICE OPENING HOURS:
Mon, Wed, Fri 10 a.m. to 1 p.m.
TEL: 068 27102
SACRISTAN: Annemarie Breen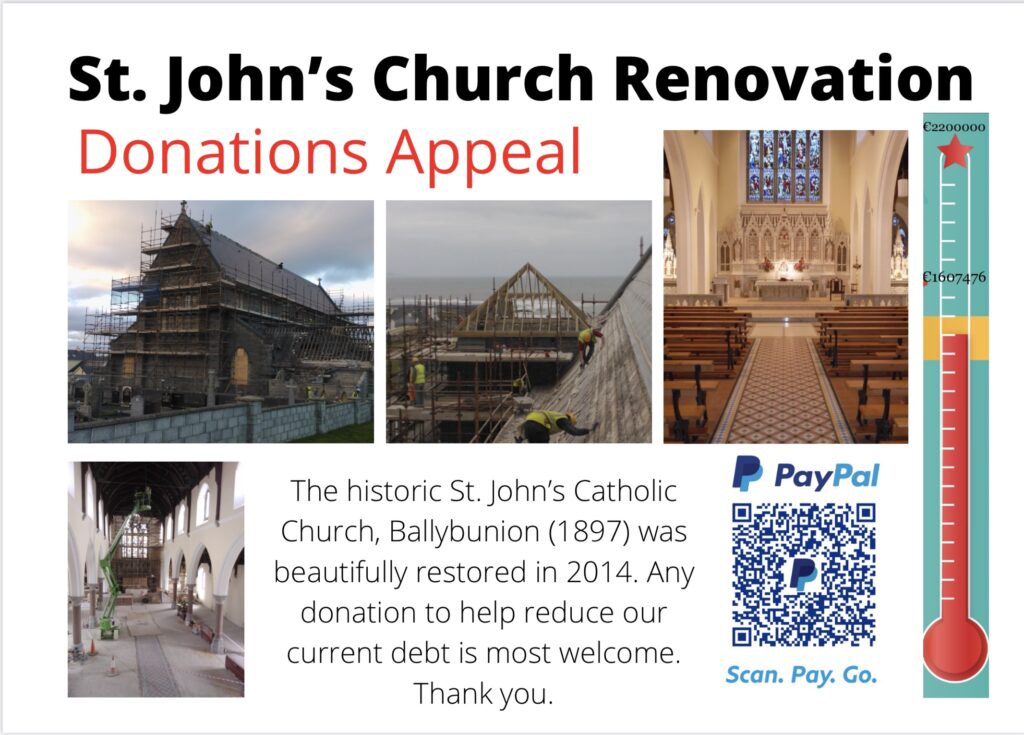 Please follow this link to donate through PayPal (No Charges)
http://paypal.com/ie/fundraiser/charity/4035451
Please follow this link to donate by card
https://www.paypal.com/donate?hosted_button_id=Z7AUTYDBVJA7L
Renovation cost €2.2 million. Unfortunately, COVID-19 has had a detrimental effect on our fundraising efforts and any donation to help us reduce our current debt of €592,524 would be most welcome. We are extremely grateful to our parishioners, mass goers, visitors and online viewers who have continued to support us very generously during this difficult time.
We ask locals and visitors  to contribute and also to encourage family and friends at home and abroad to please donate.
email address: ballybunion@dioceseofkerry.ie
LIVE MASS BROADCAST via our Facebook Page: St. Johns Parish Ballybunion
St. Johns Ballybunion FaceBook
Click here for Fr. Seán's Sunday message for this weekend:
Ballybunion Parish statement 2020 Click Here
The Sacrament of Confirmation.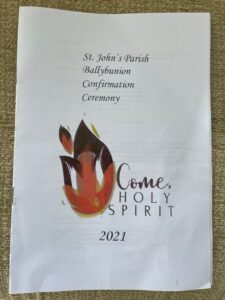 Confirmation ceremonies for Ballybunion Parish  takes place 29th/30th September and November 12th. Confirmation has it's origin on Pentecost Day, when the Spirit of God descended on  the Christian Community. Pentecost is recognised as the birthday of the Christian Church. The Spirit or Breath of God is what keeps the Church alive and allows us to witness to Christ in the world. For those being confirmed it is the strengthening of God's Spirit begun in Baptism. For us adults it is the opportunity to reclaim God's Spirit in our lives. The touchstones of staying connected with the church community are, relationship with God-prayer. Also staying connected with Christian community- Sunday Eucharist/Mass. through these celebrations of Confirmation may Pentecost continue in our Church.– 
Message from Fr. Seán: We welcome you back to mass.
Thank God we are back to celebrating Mass with Parishioners. This is what Mass is all about – the gathering of Christians to do this "in memory of me". We welcome you to join us for Eucharist. The heart of every Christian Community is to gather for Mass and St John's Church in Ballybunion is very safe and will be kept that way by our volunteers. Telephone booking is no longer required. We thank you for your patience and cooperation and ask that you continue to assist us with social distancing. Please come early.
We will continue to stream Mass live on our Facebook page.  Mass will be celebrated Monday, Wednesday and Friday mornings at 10am. Weekend Masses continue as the Saturday night Vigil Mass at 7pm and the 11.30am Sunday morning Mass.  These can be accessed through our facebook page @stjohnsparishballybunion.
Our Annual Ballybunion Golf Classic Fundraiser was a great success. We wish to thank all players, sponsors, supporters and volunteers .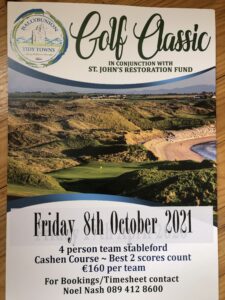 First Holy Communion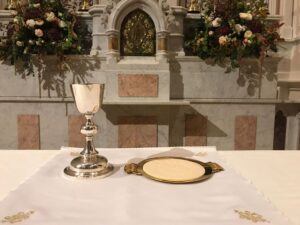 The 1st Communion ceremonies began on Saturday 9th October for the children of Kilconly School and will be held on Saturday 16th October for the children of Scoil Iosagain.
This is a significant moment in the lives of the children. It's recognised as special by the school community, the children's family and by the parish community. The most sacred gathering for the parish is Sunday Mass. We gather around the 'Lord's Table' and 'break bread' believing the Jesus is present in the breaking of bread. 1st communicants receive 'Holy Communion' for the 1st time.
This occasion is always recognised by families with celebrations and the giving of gifts to the children.
The draw of the lit candle to prayer.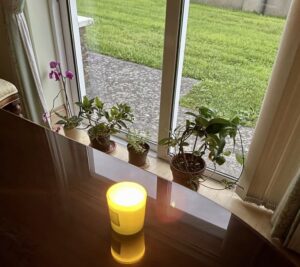 The lit candle can draw us to prayer. Christians in the early church prayed by the light of candles, this continued up to the invention of electricity. When we pray with lighted candles we bring all those Christians who have prayed before us. We recall their Christian witness, feel the comfort of their prayers, as they continue to intercede for us in the communion of saints. When we use a lit candle as a prayer aid, it can decrease our distractions. If we can allow our eyes to focus only on the lit candle, this may help our prayer. The flickering candle can bring a sense of calm into our souls.
Green Vestments and Banners
Gathering around the Altar table.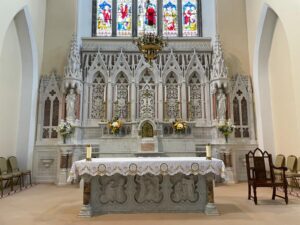 Year of St. Joseph.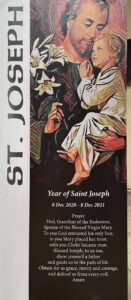 This year (December 8th 2020-December 8th 2021) is dedicated to St Joseph, husband of Mary, the mother of Jesus.
Please click to donate by card/PayPal
https://www.paypal.com/donate?hosted_button_id=Z7AUTYDBVJA7L
>>
Church Restoration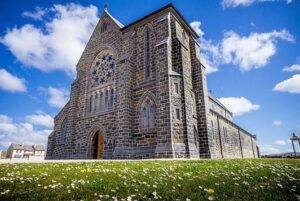 The historic St. John's Catholic Church (1897) in Ballybunion was beautifully restored at a cost of €2.2 million in 2014. Any donation to help us reduce our current debt of €592,524 would be most welcome.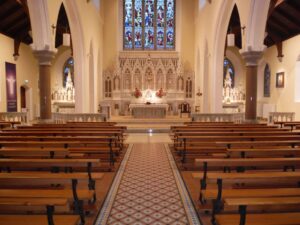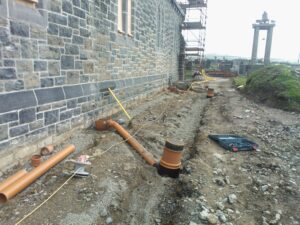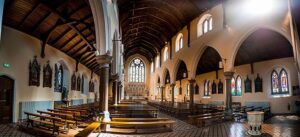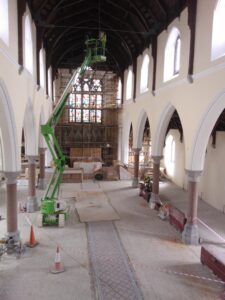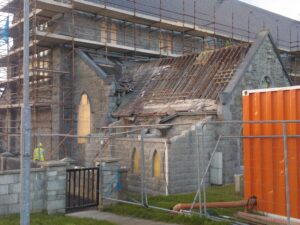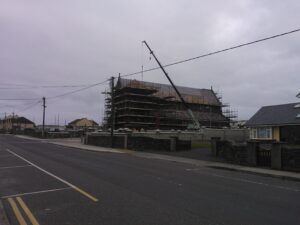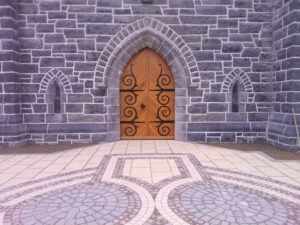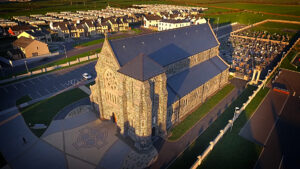 Church Stained Glass Windows: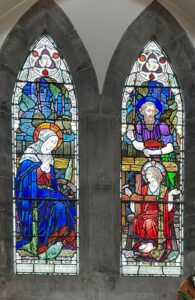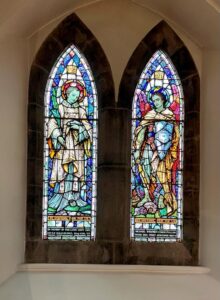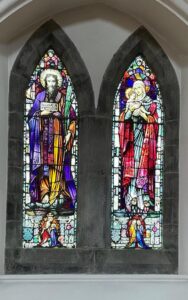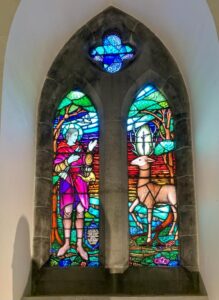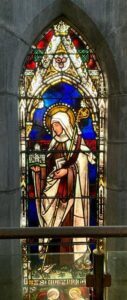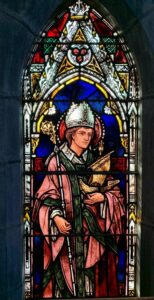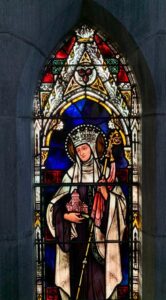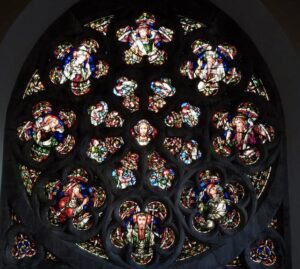 The Rose Window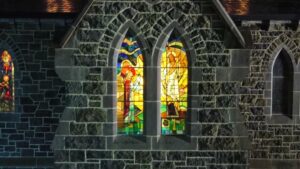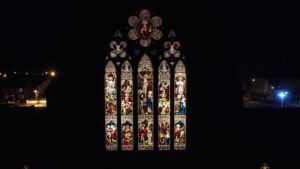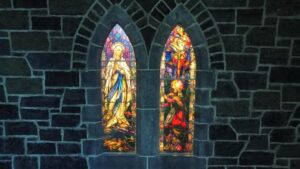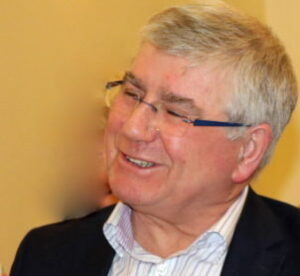 | CHURCH | WEEKDAYS | SATURDAY | SUNDAY | HOLY DAYS |
| --- | --- | --- | --- | --- |
| St John's Church, Ballybunion | 10.00 am Mon, Wed and Friday | 7.00 p.m. | 11.30 a.m. | As announced |
WEEKEND MASS TIMES 
VIGIL MASS :  Saturday Vigil Mass at  7 p.m.
Sunday Morning:  11.30 a.m. Mass