St. John's Church, Ballybunion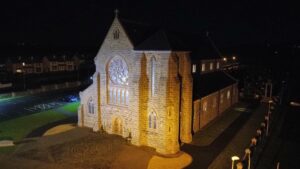 PARISH PRIEST:
Fr. Sean Hanafin
PARISH SECRETARY:
Geraldine O'Connor
PARISH OFFICE OPENING HOURS:
Mon, Wed, Fri 10 a.m. to 1 p.m.
TEL: 068 27102
SACRISTAN: Annemarie Breen
Please click to donate by card/PayPal
https://www.paypal.com/donate?hosted_button_id=Z7AUTYDBVJA7L
email address: ballybunion@dioceseofkerry.ie
LIVE MASS BROADCAST via our Facebook Page: St. Johns Parish Ballybunion
St. Johns Ballybunion FaceBook
Click here for Fr.Seán's Sunday message for this weekend:
Ballybunion Parish statement 2020 Click Here
Message from Fr. Seán: We welcome you back to mass.
Thank God we are back to celebrating Mass with Parishioners.  Should you wish to attend Mass in St John's Church please call the dedicated phone line to book your place.  The line is open between 10am and 1pm, daily.  Please Call 087 7982190
We will continue to stream Mass live on our Facebook page.  Mass will be celebrated Monday, Wednesday and Friday Mornings at 10am.   Weekend Masses continue as the Saturday night Vigil Mass at 7pm and the 11.30am Sunday Morning Mass.  This can be accessed through our facebook page @stjohnsparishballybunion.  We will post the recording on the Facebook page for praying with at your convenience.
This is what Mass is all about – the gathering of Christians to do this "In memory of me" . Please join us for Eucharist. The heart of every Christian Community is to gather for Mass and St John's Church in Ballybunion is very safe and will be kept that way by our volunteers.
Year of St. Joseph.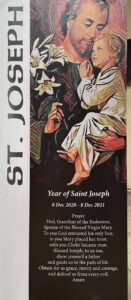 This year (December 8th 2020-December 8th 2021) is dedicated to St Joseph, husband of Mary, the mother of Jesus. This call to place our focus on Joseph is particularly relevant in this time of turmoil around the world. The pandemic has placed our human frailty and mortality in our minds and in the news. Highlighting St Joseph reminds us that we have a powerful ally in Heaven. Joseph lived and worked in the shadow of Mary and Jesus. A lot of uncertainty has been created for people. There is no certainty of employment, world travel has been suspended. We have also become more aware of how much we own ordinary hardworking people. The dedication of family members towards each other, fathers and mothers and grandparents are the people who carry each other through every crisis. Usually their work is unhighlighted. These are the people who live in the shadows of society.  Joseph had lived and worked in the shadows all his life.
Pope Francis has written a letter reflecting on the fatherhood of Joseph called Patris Corde (With a Father's Heart). This can be found on the Internet and is a beautiful letter and worth reading for all Christians.
Please click to donate by card/PayPal
https://www.paypal.com/donate?hosted_button_id=Z7AUTYDBVJA7L
>>
Church Restoration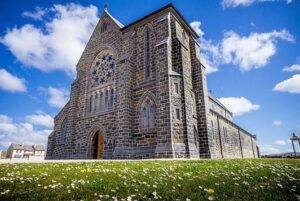 The historic St. John's Catholic Church (1897) in Ballybunion was beautifully restored at a cost of €2.2 million in 2014. Any donation to help us reduce our current debt of €592,524 would be most welcome.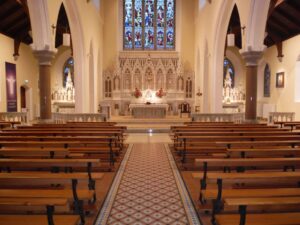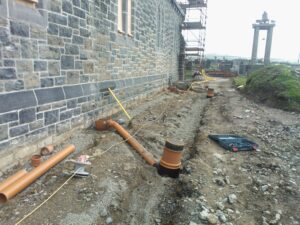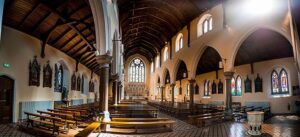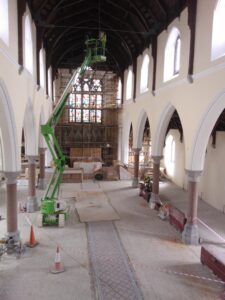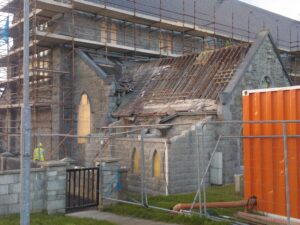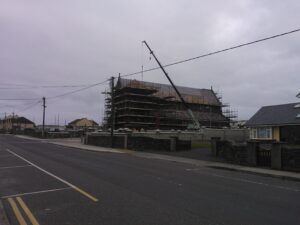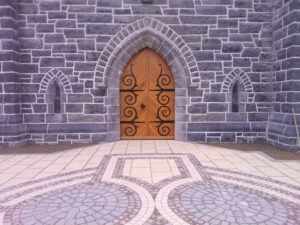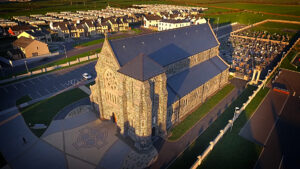 Church Stained Glass Windows: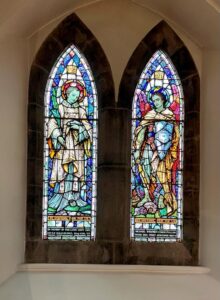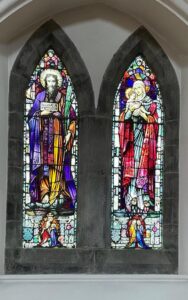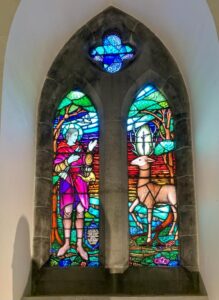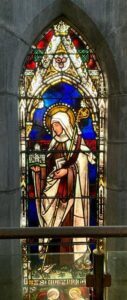 Sunday May 16th was the Feast Day of Saint Brendan, the Patron Saint of the Diocese of Kerry. Brendan was born on the other side of the Cashen River in the Ardfert/Fenit area around the year 484. He is reputed to have been raised by St Ita in Limerick at her boys school. After ordination he became an Abbot and a founder of Monasteries and a hero of legendary voyages in the Atlantic Ocean. He is closely associated with Ardfert Monastery.
In early times Christianity was organized around the Monasteries, then in the year 1111 at the Council of Rathbrazil the structure of Parishes and Dioceses were formalized. The Diocese of Kerry (Ardfert) which takes in all of County Kerry, all the Beara Peninsula and five Parishes in North Cork was established.  Brendan became the Patron Saint of our Diocese.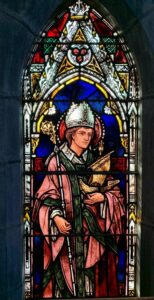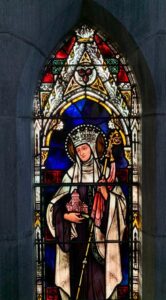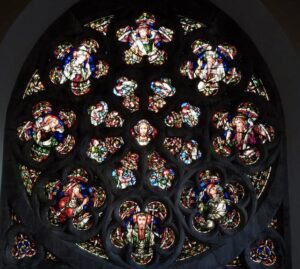 The Rose Window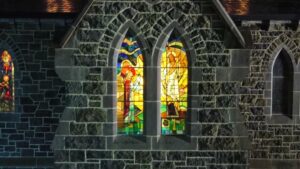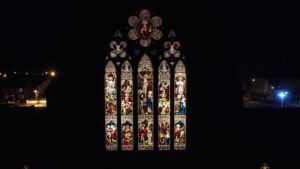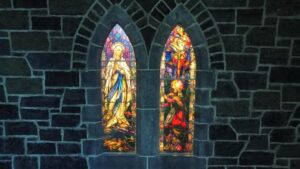 Because there is a limit on numbers please call the dedicated phone number (087) 798 2190. Please note this is a new telephone number. We ask you to share it with anyone interested.
| CHURCH | WEEKDAYS | SATURDAY | SUNDAY | HOLY DAYS |
| --- | --- | --- | --- | --- |
| St John's Church, Ballybunion | 10.00 am Mon, Wed and Friday | 7.00 p.m. | 11.30 a.m. | As announced |
WEEKEND MASS TIMES 
VIGIL MASS :  Saturday Vigil Mass at  7 p.m.
Sunday Morning:  11.30 a.m. Mass