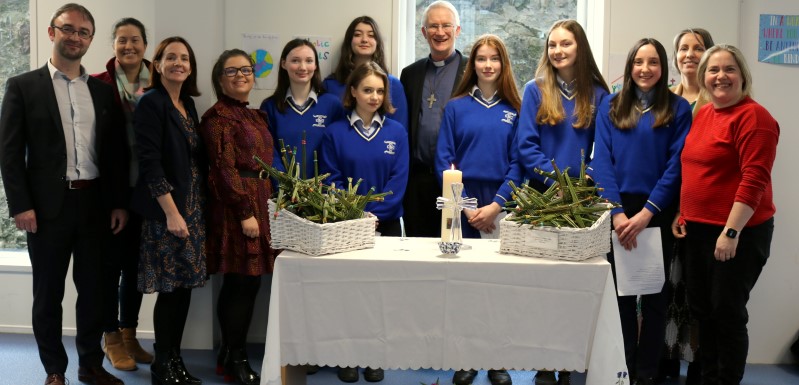 Catholic Schools Week 2023 was celebrated in schools throughout the diocese from January 22nd until January 29th.  Many thanks to management, staff and students from all  the schools who worked hard to mark this important week in the lives of our Catholic Schools.  The theme for the week this year was 'Walking Together in Faith & Love', this theme draws on three features of the Synodal Pathway: Communion, Participation and Mission.  The theme nicely encapsulates the ethos of Catholic Schools, as such places are not just institutes of learning and academia but also places of welcome, inclusion, joy, friendship and much more.  What defines a Catholic School is very much that the ethos is rooted in Gospel values and in the the person of Jesus.
To celebrate this important event Bishop Ray Browne, Mary Fagan (Diocesan Communications Director) and Tomás Kenny (Post-Primary DA) paid a visit to St. Brendan's College and to St. Brigid's Presentation, Killarney.  The students in both schools participated in a short prayer service focusing on the theme for the week.  The schools also incorporated creative pieces linking the service to the student's R.E. classwork.  The spirit of Communion, Participation and Mission was very evident in the schools we visited.  The schools have shown a great welcome and hospitality to many Ukrainian students and students of other World Faiths also participated in the services.  Many thanks again to the staff and students of both schools for making such a great effort.
Listen to Horizons on Radio Kerry Sunday 5th Feb to hear music and prayers from St. Brigid's Killarney. Listen Back.