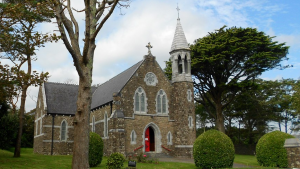 Sunday Mass is streamed from  Valentia island every Sunday  at 11.15am, the Mass will alternative between the two churches each week.  The links below will take you directly to the live-stream when clicked. Alternatively  you can look up Churchservices.tv  and enter either church to watch the Mass.
The first Mass to be live streamed will be from Knightstown on May  2nd at 11.15am and alternative every week thereafter.
Please click on the  link below  to watch Mass from Knightstown:
https://www.churchservices.tv/valentiaknightstown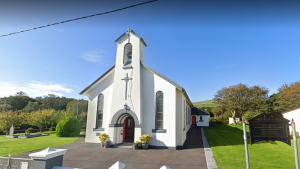 Please click on the  link  below to watch Mass from Chapeltown:

https://www.churchservices.tv/valentia
Our Parish is a group of families and individuals who strive to live out the Gospel message. The Gospel gives meaning, direction and hope to our lives. We believe that Christ came that we might have life and have it to the full. If you are new to our Parish community and would like to find out more about us please feel free to contact us.
email address: valentia@dioceseofkerry.ie
Pope Francis's Prayer to Mary during Coronavirus Pandemic
O Mary, you always shine on our path as a sign
of salvation and  of hope.
We entrust ourselves to you, health of the Sick,
Who at the cross took part in Jesus' pain, keeping your faith firm.
Your, Salvation of the Roman People,
Know what we need, and we are sure you will provide so that,
As in Cana of Galilee,
We may return to joy and to feasting after this time of trial.
Help us, Mother of Divine Love,
 to conform to the will of the Father and to do
As we are told by Jesus,
Who has taken upon himself our sufferings?
And carried our sorrows to lead us, through the cross,
To the joy of the Resurrection. Amen.
 Baptism and Marriage Ceremonies information: Please click on the links below :
Marriage / Wedding Planning Summary;  
If you wish to book Baptism,Weddings ,Stations,House Masses etc.Please contact The Parish Office in Cahirsiveen
Mon-Fri 10 am – 2 pm
Phone:066-9472210 or 087-2324171
The parish of Valentia will be served by the priests of the Iveragh Pastoral Area, with Fr. Larry Kelly as Moderator.
 Valentia,
 Co. Kerry.
 066-9476104. Fax: 066-9476408
 e:mail: valentia@dioceseofkerry.ie
VALENTIA PARISH NEWSLETTER 17th October 2021
VALENTIA PARISH NEWSLETTER 10th October 2021
VALENTIA PARISH NEWSLETTER  3rd October 2021
VALENTIA PARISH NEWSLETTER  26th September 2021
VALENTIA PARISH NEWSLETTER 19th September 2021
VALENTIA PARISH NEWSLETTER  12th September 2021
Guidelines for the diocese of Kerry.
As promised last Friday I now issue ongoing guidelines for the diocese. These guidelines will endure until the Government indicate they are no longer necessary.
• Regarding Masses (daily and weekend) and other liturgies in the context of the Covid-19 pandemic: no public Masses with a congregation will be celebrated until further notice.
• Churches will be open each day for private prayer. In attending church people are asked to follow all guidelines, including hand –washing before coming to church and on return home, keeping their distance from any person they meet, and also minimising their touching of hard surfaces.
• Adoration groups have asked for some guidance. Any who wish to spend a period in prayer can do so from any seat in the church with their focus on the tabernacle. Exposition is not to take place as it would draw people to sit in the seats immediately in front of the monstrance and thus increase the risk of the virus being contacted. The continuance of ringing the church bell at 11am on Sunday morning is recommended. Any who hear it will be reminded that we are never alone, Christ is with us, our strength and guide. At 11am each Sunday it is a call to us all to pause and spend a few minutes with God in prayer, uniting with all in our diocese. Many have remarked that doing this is a positive experience. Last weekend was a difficult weekend for us all, - the initial adjustment mental and physical to 'social distancing'. Now people are adjusting well and feel more at ease. We realise that we must give full cooperation to our government and the HSE. So many people have shown great personal qualities and great wisdom. There are so many examples of the 'good neighbour' and it does all our hearts good. I have in mind all the people putting the word out in their community, by phone or on-line, that they are available to help anyone in need. Also many people have expressed their appreciation of their parish for prayer and for Masses. Many have joined us on the Mass on line- via live streaming. We thank you for joining us from your own home. Let us all continue to pray for each other and look out for one another at this difficult time for all of us.
HAPPY Easter.
Weekend Mass times for the Winter months:
Sunday Mass at 11.15 am alternating between the Chapeltown Church and Knightstown Church every second weekend
CHURCH
WEEKDAYS
SATURDAY
SUNDAY
HOLY DAYS
Church of the Immaculate Conception, Knightstown
Tuesday

9.30am

 
11.15am alternating with Chapeltown
 
Church of St Dorarca and St Teresa, Chapeltown
Friday 6.00pm
 
11.15am alternating with
 
---