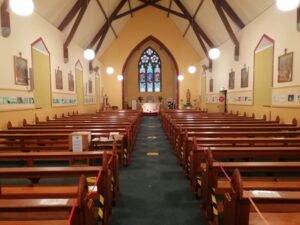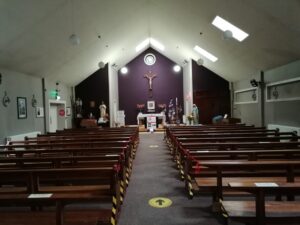 Our priest is Fr. Francis Nolan. P.P.
We have two churches:
The parish church is The Church of the Purification, Churchill.
The second church is The Church of St Joseph, Fenit.
The Sacristan in Churchill is Mrs. Ann Daughton.  Phone: 087 9951601 or 066 7136173
The Sacristan in Fenit is Patricia Murphy.
email address: spa@dioceseofkerry.ie  or francis.nolan@ymail.com
Facebook Page: Spa Parish Churchill/Fenit
Fr. Francis Nolan. P.P.
Churchill
Tralee
Co. Kerry.
 066-7136145  Mobile: 087 2100273
e-mail:  francis.nolan@ymail.com
Emergencies calls covered by the priests of the Tralee Pastoral Area (St. John's, Our Lady & St. Brendan's and Spa parishes).
Emergency Number: 087 2069656 
In accordance with the revised Government COVID restrictions effective from 26th December 2020, Masses will be celebrated in private without public attendance. All Masses are streamed live on spaparish@dioceseofkerry.ie
Outside of Mass times, Churchill Church & Fenit Oratory will remain open each day for private prayer. Please see current weekly newsletter for more details.
Please join us also on line for live streaming at spaparish@dioceseofkerry.ie
The following Mass times are in place from Monday 4th January 2021 until further notice:
Monday: 10.00am Fenit Oratory.
Tuesday: 10.00am Fenit Oratory
Thursday: 7.30pm Churchill
Friday: 7.30pm Churchill.
Saturday: No Mass:
Sunday: 9.30am Fenit Oratory.
Sunday: 11.30am Churchill.
Adoration of the Most Blessed Sacrament: (Cancelled for the present)
Each Tuesday in St. Joseph's Oratory Fenit from 10.30am until 12 noon.
Each Thursday in Churchill Church from 3.00pm until 7.00pm, concluding with Benediction.