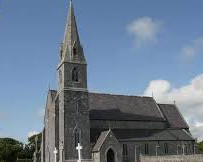 Our churches:  St Brendan's Church, Ardfert and Sacred Heart Church, Kilmoyley
Contact us: Fr Pat: 087 6709491; email: ardfert@dioceseofkerry.ie; parish office: 066 7134131
Parish Priest: Fr Pat Crean-Lynch.  Parish secretary: Sheila Dwyer
St Brendan's Church, Ardfert is open for private prayer each day from 10.45 am – 5 pm and on Sundays from 11.45 am – 5 pm; Sacred Heart Church, Kilmoyley is open for private prayer on Tuesdays, Fridays, Saturdays and Sundays from 11 am – 4 pm.   The parish office is closed to the public during Level 5 restrictions.  Please contact the parish office by phone (066 7134131 – please leave a message and the secretary will get back to you) or by email at ardfert@dioceseofkerry.ie.  Parish offering envelopes and mass offerings/requests can be securely posted through the letterbox of the parish office.  The Parish Finance Council thanks you for your continuing financial support of our parish and our priest in these difficult times.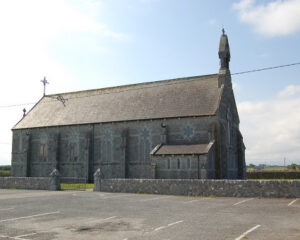 All Masses are now available to view online. Click on the links for St Brendan's Church, Ardfert and the Sacred Heart Church, Kilmoyley.   Mass is held in St Brendan's Church, Ardfert on Sundays at 11 am and from Monday to Saturday at 10 am.  Mass is held in the Sacred Heart Church, Kilmoyley at 7 pm on Saturdays.

A Message from Fr Pat.  The fundraiser to raise money for the installation of the webcams in our two churches has been a tremendous success, with €14,763 raised at this stage.  As most of you probably know , the cameras were installed on Wednesday 27th January 2021.  I will continue for the time being to also stream Masses on the 'Ardfert-Kilmoyley Parish' Facebook page.  As I continue to celebrate Mass without a congregation I look forward to having as many people as possible join me each day via the internet or Facebook.

LENTEN SACRED SPACE in Ardfert church.  You are invited to spend time in prayer and reflection during the Lenten season.  Lenten prayers and reflections are available at the Sacred Space for you to take home.
"Walk With Me": Copies of the 2021 Lenten edition of "Walk With Me" are available in both of our churches as well as the corresponding children's activity booklet and calendar.  We will read the daily reflections contained In this booklet at all of our Masses during the Season of Lent.  The reflections are inspired by Pope Francis' latest encyclical or letter "Fratelli tutti" and his new book "Let Us Dream", both of which were published late last year and written as a response to the global Covid-19 pandemic.
Trócaire: Our support for Trócaire would be greatly appreciated this Season of Lent.  Trócaire packages, which contain the Trócaire Box and information on Trócaire's great work in the Developing World, can be found in both of our churches.  This year they are focussing in particuar on the desperate situation in South Sudan.  We encourage you to take home a Trócaire package.
Our parish is a group of families and individuals who strive to live out the Gospel message. The Gospel gives meaning, direction and hope to our lives. We believe that Christ came that we might have life and have it to the full. If you are new to our Parish community and would like to find out more about us please feel free to contact us.
email address: ardfert@dioceseofkerry.ie
 Fr Pat Crean Lynch

The Presbytery, Ardfert, Co. Kerry.
Tel: (066) 7134131

 
Mobile: 087 6709491
e-mail: ardfert@dioceseofkerry.ie
Parish Secretary: Sheila Dwyer.  Tel: 066 7134131.
| CHURCH | WEEKDAYS | SATURDAY | SUNDAY | HOLY DAYS |
| --- | --- | --- | --- | --- |
| St Brendan's Church, Ardfert | 10 am | 10 am | 11.00am |  11.00am |
| Sacred Heart, Kilmoyley |   | 7.00pm |   |  7.00pm vigil |