Come Holy Spirit, fill the hearts of your faithful and kindle in them the fire of your love. Send forth your Spirit and they shall be created. And You shall renew the face of the earth.
Pope Francis has invited the whole Church to reflect on some fundamental questions in preparation for the Synod of Bishops in Rome in October 2023 and so that every baptised member of the Church is more aware of his or her mission and calling.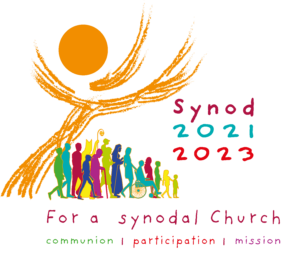 Here in the Diocese of Kerry the Synodal Team will be organising opportunities in the Spring to discuss these questions and provide feedback that will help the work of the Synod of Bishops. However, it is good that we reflect and think about these questions ourselves beforehand. Perhaps we can also discuss them questions with those close to us – family members, friends and others in our parish.
Pope Francis often talks about a "Synodal Church" – by this he wants to draw attention to the fact that each of us, because of our baptism, has a role to play in the Church; we are all together on the same road. (This is what the word Synodality means – it comes from the Greek words syn meaning together and hodos meaning way.) Because we have received the gift of the Holy Spirit we are asked to reflect on these questions with the Spirit's help, speak about them with the Spirit's inspiration and listen to what others say understanding that the Spirit may be speaking to us in what we hear from others.
So, as we prepare for our more formal and organised discussions and listening in the Spring, let us familiarise ourselves with the issues that we are being asked to consider and begin the conversation with those closest to us.
The Fundamental Questions that Pope Francis wishes to consult the whole People of God is about are:
A synodal Church, in announcing the Gospel, "journeys together."
How is this "journeying together" happening today in your local Church?
What steps does the Spirit invite us to take in order to grow in our "journeying together"? (Par 26, Synod Preparatory Document)
Tips for reflecting on these questions:
We are being asked about what is happening locally. The Church is not something out there in Rome or Maynooth. We live our faith in our parishes, in our diocese, with our families, with our friends. So we are being asked to consider how we are journeying together in faith in our own lives.
What experiences come to my mind when I think about being part of the Church? What joys do these experiences call to mind? What difficulties or obstacles come to mind? What wounds might be revealed by my reflection? What insights do I have?
Drawing on my own experiences, and the experiences of others, where is voice of the Holy Spirit present? What might the Holy Spirit be asking of us? Do I come to a deeper understanding of others by leaning about their faith and experiences?
In order to reflect more deeply on the fundamental questions, the Synod of Bishops in Rome has come up with a series of ten themes with accompanying questions. Feel free to reflect on and discuss them in preparation for our listening process in the Spring. The Diocese's website and social media will be drawing attention to these questions in the coming weeks.
Those who wish to provide on-line feedback to the Diocese as part of our listening process are invited to complete the Synodal Pathway Feedback Form.