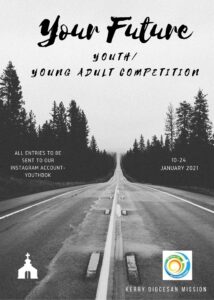 Instagram Youth Project
Theme: Let Us Dream, The Path to a Better Future
Pope Francis invites us to dream of the future and to see, to choose and to act to create a better future for all.
What kind of future do you hope for and how will it be achieved?
Share your ideas through the following categories:
• Art
• Poetry
• Photography
• Video (I minute)
Prize for each category. A gift voucher will be awarded by the judging panel on 29th Jan.
All entries can be submitted by DM to Instagram @youthDoK or by email to desbailey@dioceseofkerry.ie from Sunday 10th to Sunday 24th January 2021. Participants must be between 16 and 30 years old. The entries will be posted on the diocesan Instagram page and on www.dioceseofkerry.ie during the week of the diocesan mission, January 24 th to January 29th 2021. Please contact Des Bailey Ph. 086 736 4605 or Tomas Kenny Ph. 086 368 3778 for more details.
****************************************************************************************
Join us over on Instagram @youthdok .  This is the youth connection for the Diocese of Kerry Youth Ministry. We use Instagram to reach out and interact with young people and young adults aged 16 -30 yrs. Our aim is to create a sense of community.
Follow us @youthdok to view photos and brief captions, reflections, inspirational quotes and videos. We will also promote activities, competitions, and nurture a space for creativity. You can also join us in our music/prayer space.
If you have ideas, suggestions and would like to get involved contact berniemccaffrey@dioceseofkerry.ie