April/Aibreán 2020
Pope Francis giving us his meditation during his Urbi et Orbi message  from the steps of The Vatican on 27 March.
"The storm exposes our vulnerability and uncovers those false and superfluous certainties around which we have constructed our daily schedules, our projects, our habits and priorities. It shows us how we have allowed to become dull and feeble the very things that nourish, sustain and strengthen our lives and our communities".      Pope Francis Urbi et Orbi message 27 March 2020
Read the full text of his powerful meditation here.
And this is how Pope Francis blesses all of us as he ends his meditation.
"Why are you afraid? Have you no faith"? Dear brothers and sisters, from this place that tells of Peter's rock-solid faith, I would like this evening to entrust all of you to the Lord, through the intercession of Mary, Health of the People and Star of the stormy Sea. From this colonnade that embraces Rome and the whole world, may God's blessing come down upon you as a consoling embrace. Lord, may you bless the world, give health to our bodies and comfort our hearts. You ask us not to be afraid. Yet our faith is weak and we are fearful. But you, Lord, will not leave us at the mercy of the storm. Tell us again: "Do not be afraid" (Mt 28:5). And we, together with Peter, "cast all our anxieties onto you, for you care about us" (cf. 1 Pet 5:7).
Note as you scroll down you will also be able to watch and hear this precious and uplifting message.
05 April/Aibreán
Palm Sunday     
The story of Jesus' entry into Jerusalem. Mark 11.1-10 "Blessings on the one who comes in the name of the Lord".
Question: Who is coming into your life and the lives of others at this time? Give thanks for all who are helping in a myriad of ways during this time of challenge for us all. How can you go safely into the lives of others on this day?
Action: Remember and give thanks to God for those times of great joy in your life and that of your family and community. Renew your faith in the values of Jesus as we enter Holy Week.
and
The Passion… Mark 15 21-41 "Jesus gave a loud cry and breathed his last"…."In truth this man was a son of God".
Action: Please make every effort to Join with your local church community for the liturgy of Palm Sunday using the gift of technology including live streaming , facebook or using the various websites whose links are on this website in both its joy and its agony that you too may grow in faithfulness as a disciple of Jesus.
06 April/Aibreán
Holy Week begins.
Action: Try to read the scriptures each day of this Holy Week. Find them on this website.  Enter into the week by taking time in God's creation, even if only in your back garden or within your 2k limit. Watch for signs of new growth, of reawakening all around you. Let this be a springtime in your own life as you sense the nearness of God in all things. Don't forget to return your Trócaire box and join with others in overcoming fear with love.
8 April/ Aibreán
International Roma Day
This is a day to celebrate Romani culture and raise awareness of the issues facing Romani people.
Sister Anne McNamara and companions, of the Presentation Community in Tralee works with Roma children and their families in the Nano Nagle Centre in Spisske Podhradie, Eastern Slovakia
Action: Pray for Sister Anne and the work of the Presentation sisters as they share the compassion and joy of the gospel in this very challenging situation.
10 April/ Aibreán
Good Friday
Have you ever had the opportunity to take part in God's work of grace as a Simon of Cyrene in yourself or with another? Pray for the courage of Jesus in your own life especially at this time but also not to be afraid to cry in a loud voice 'My God, my God, why have you deserted me?'
"Because this is God's strength: turning to the good everything that happens to us, even the bad things. He brings serenity into our storms, because with God life never dies." Pope Francis in his Urbi et Orbi message on 27 March.
Action: Be aware of the closeness of Jesus to you throughout this day.Pray the Stations of the Cross.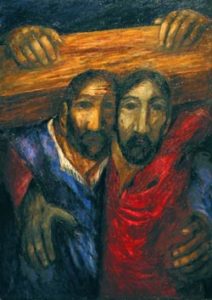 Have you ever had the opportunity to take part in God's work of grace as a Simon of Cyrene yourself or with another? Pray for the courage of Jesus in your own life but also give thanks for all the 'Simons' working across the Diocese, Ireland and the World during this crisis.
12 April/Aibreán
Easter Sunday…..Jesus is Risen   ALLELUIA
Action: Don't forget to return* your Trócaire box as you join with so many others until "Love Conquers Fear"         (or *mind it until it is safe to do so)
22 April/ Aibreán
World Earth Day…. 50th Anniversary
"I appeal to all people everywhere to raise their voices. Speak out on behalf of this planet, our only home. Let us care for Mother Earth so she can continue to care for us as she has done for millennia" UN Secretary-General Ban Ki-moon
International Earth Day is celebrated to remind each of us that the Earth and its ecosystems provide us with life and sustenance.
It also recognizes a collective responsibility, as called for in the 1992 Rio Declaration, to promote harmony with nature and the Earth to achieve a just balance among the economic, social and environmental needs of present and future generations of humanity.
International Earth Day provides an opportunity to raise public awareness around the world to the challenges regarding the well-being of the planet and all the life it supports.
Action: Consider what you can do! Use your creativity to join in…in your back garden, in your 2k walk, looking out your window, in a pledge you make to care for Our Common Home…..technology may help you.
26 April/ Aibreán
Anniversary of Venerable Nano Nagle (1718-1784), Foundress of the Presentation Sisters.
"The Almighty makes use of the weakest means to bring about His works" Nano Nagle.
Action: Give thanks for the work of this congregation down through the years and NOW.
Pray especially for the elderly sisters being gently cocooned at the time of this Coronavirus pandemic.
Finally….Live in the joy of Easter every day and let it fuel our passion for justice in every corner of our world as together with Peter we , "cast all our anxieties onto you dear Jesus  Lord and Saviour, for you care about us"          ref quoted by Pope Francis in his Urbi et Orbi Message.
SAVE THE DATES:
15-23 August/Lúnasa: Heritage  Week (let's pray that we will be able to celebrate this).
1 September – 4th October: Season of Creation 2020:  Theme 'Cultivating Hope: A Faith Response to the Climate Crisis'